They had to do it.
Because of past failures at the quarterback position, the New York Jets -- in a decades-long search for a franchise quarterback -- put themselves in the unenviable position of having to trade up.
This current Jets regime whiffed on draft picks Bryce Petty and Christian Hackenberg and they missed out on prized free agent Kirk Cousins even though they offered more money than the Minnesota Vikings. So general manager Mike Maccagnan had a choice:
Sit tight with the sixth pick and pray one of the top four quarterbacks falls in his lap -- a quarterback he actually believes in -- or be proactive and jump for one he really likes.
After failing to land free agent Kirk Cousins, GM Mike Maccagnan had to trade up to draft a quarterback who can lead the Jets into the future. AP Photo/Mel Evans
Wisely, Maccagnan opted for the latter, moving up three spots in the draft. To get the third pick away from the Indianapolis Colts, the Jets sent three second-round picks in this year's draft -- the 37th and 49th overall picks -- plus their 2019 second-rounder.
Maccagnan did well to keep his 2019 first-rounder, but make no mistake, this was a costly proposition. By trading three second rounders, he gave up three potential starting players -- a big haul for a rebuilding team with many holes.
The Jets went into the offseason knowing they'd have to pay big money for a quarterback (Cousins) or a big draft-pick package. After getting snubbed by Cousins, they opted for the latter route.
Again, they had to. It was a no-brainer. In the process, they boxed out the Buffalo Bills, who surely will be angling to move up for a quarterback.
2018 NFL DRAFT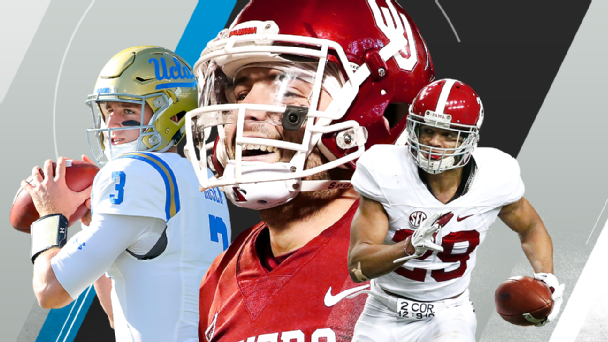 When: April 26-28 Where: Arlington, Texas NFL draft coverage » | Full order: 1-256 »
•10 risers after combine workouts » •Mel Kiper's Mock Draft 2.0 » •Todd McShay's Mock Draft 2.0 » • Kiper's Big Board » | McShay's Top 32 » • 2018 draft QB class primer »
The Jets re-signed Josh McCown and added Teddy Bridgewater at the start of free agency, but no one in the NFL actually believed they'd stand pat with that tandem. They were the Band-Aids, the quick fix. This franchise, in a perpetual search for the next Joe Namath, needed something long-term.
This trade shows there are at least three quarterbacks on the top of the Jets' draft board. You don't make this kind of trade if you don't love the third quarterback on your list. If the Cleveland Browns and New York Giants pick quarterbacks with the first and second picks, respectively, Maccagnan has to be comfortable with the third guy.
I believe the Jets' top three are Sam Darnold, Josh Allen and Josh Rosen, in no particular order. That's based on conversations with personnel people around the league. The early sense is the Jets don't rate Baker Mayfield in that upper-echelon category. It's worth noting that Maccagnan left the Jets' free-agency war room in recent days to attend the Rosen and Mayfield pro days. It was a final look-see before he made this trade.
The pressure was on Maccagnan to secure a long-term solution at the most important position. This is his fourth year in the big chair and, like so many of his predecessors, he hasn't solved the riddle. This offseason presented a unique opportunity because of Cousins' availability and a top-heavy draft class.
It would've been inexcusable to emerge from this offseason without an heir apparent.
The seeds for this trade were actually planted several months ago, at the end of the preseason, when the Jets traded Sheldon Richardson to the Seattle Seahawks for a second-round pick and Jermaine Kearse. They wanted to bolster their draft capital for an opportunity like this. They won a few more games than many expected, costing them draft position. So they changed their quarterback plan.
Plan A was Cousins. They offered him a three-year, $90 million contract, fully guaranteed. He took $6 million less to play for the Vikings. Good riddance. In the long run, they would've regretted the deal because he's no savior.
Plan B was McCown, Bridgewater and the draft.
Did they give up a lot? Sure, but here's the thing: No one will care about the compensation if Quarterback X -- Darnold, Allen or Rosen -- turns into the real deal.